Lucky Puppy
Home Boarding for Dogs
0161 427 4263 / 07920 132806
Secure and safe home boarding with daily walks in a loving and caring home from home
We are a small independent family run dog home boarding service based in Marple Bridge Stockport Cheshire, we've always had dogs in our family since we can remember and we started this business because we and a lot of other owners don't like to leave their dogs in boarding kennels preferring them to be in a calm, loving family environment and we are pretty sure the dogs prefer this too as they really love staying with us.

Being away from home and their owners is always a difficult time for dogs, but when in a loving home environment with their normal routines being kept it makes the whole experience less stressful for them.


Lucky Puppy Home Boarding Fees:
One dog £18.00 per day or part day
Second dog same family £9.00 per day or part day
Third dog same family £6.00 per day or part day
We provide the finest possible service and care for our customers best friends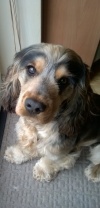 We are fully licensed and insured and have a safe and secure garden for the dogs to explore, with daily walks in the local parks, we have built a reputation for providing a loving and caring home from home for all of our customers dogs, giving peace of mind to the owners as they know their dogs are happy, able to relax, play and have a great time as well.

Prior to booking our customers initially bring their dogs round to meet us, it helps them to familiarise themselves with the surroundings and helps both parties to get to know each other better. When you bring your dog to stay with us, you will need to bring enough dog food for your dog's stay, together with their bedding, treats, toys, leads, vaccination certificate and anything else to help make your dog feel at home.